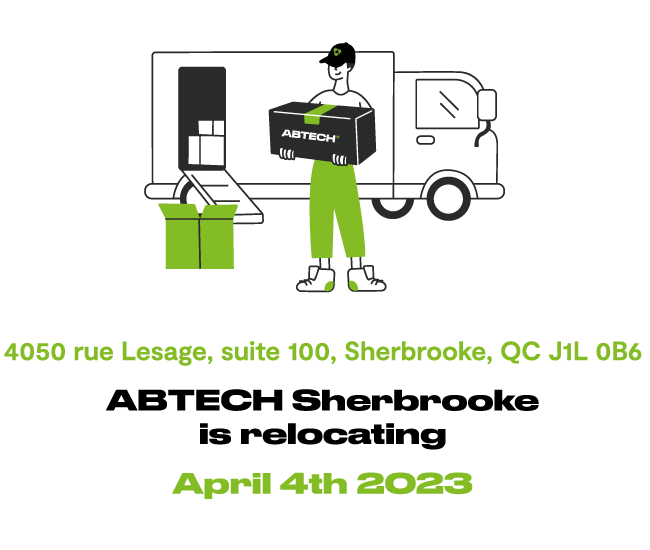 A new head office towards the future of the company.
ABTECH is proud to announce the official move to its new head office at 4050 Lesage Street in Sherbrooke on April 4th. This new location will accommodate all employees of the Sherbrooke offices as well as a new technical center and distribution center to support ABTECH's ambitions. 
Some key figures related to this investment:
– Tripled surface area
– 1 state-of-the-art technical center and space for new technologies
– 1 gym
– 1 modern distribution center
– And much more
An inspiring and unifying space
With a contemporary signature and clean design, the spaces have been thoughtfully designed to create a stimulating and healthy environment for employees.
Team members will enjoy administrative offices three times larger than those currently in use, bright, collaborative workspaces, a beautiful outdoor terrace, and a gym.
The move will occur over four days, from March 31st to Monday April 3rd, inclusively.
The different teams and the customer service will be back in place to serve on April 4th, 2023, at 8 am.
Founded in 1996, ABTECH Services Polytechniques Inc. has specialized, since its creation, in the distribution of instruments related to surveying and construction. Entirely dedicated to its customers, with a mission to always offer an incomparable service, the organization makes it an honor to renew itself constantly. With the achievement of this project, ABTECH demonstrates once again its implication and its desire to answer the needs of its customers and its teams.
ABTECH's services, including sales, rentals, and repairs, are offered in Quebec, Ontario, the Atlantic Provinces, and New England.
ABTECH Services Polytechniques Inc.
4050 rue Lesage
Suite 100
Sherbrooke  J1L 0B6   Québec